The President of the Islamic Republic of Mauritania, H.E Mr. Mohammed Ould Abdel Aziz, , received at his office on the 13th of November 2017, H.E Prof. Ibrahim Adam El Dukhiri, Director General of the Arab Organization for Agricultural Development. The Minister of Agriculture H.E Mrs Al Ameena bint AL Qutub Weld Omam attended the meeting.
H.E Prof. El Dukhiri said in a statement to the Mauritanian press, that he was glad to have the opportunity to meet with the President and listen to his directives. H.E Prof El Dukhiri thanked, H.E the President for the support of Mauritania for electing him as the Director General of the AOAD. Moreover, H.E said, it was very obvious that H.E Mr. Mohammed supports fully the joint Arab action and the AOAD activities in Mauritania and expressed his keenness to expand AOAD activities. H.E added that the activities will include other agricultural experiments that succeeded in other countries.
H.E Prof El Dukhiri attended the opening ceremony of the investment forum on livestock organized by Arab Authority for Agricultural Investment and Development and the Ministry of Veterinary Affairs of Mauritania. The forum was under the chairmanship of Mauritanian Prime Minister H.E Mr Yahia Ould Haddmine, in the presence of Arab and Mauritanian investors.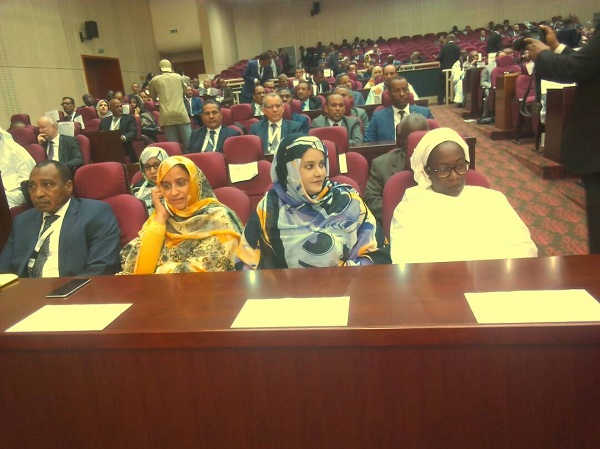 H.E Prof El Dukhiri was chosen as the guest of honor. H.E gave a speech, thanking the Mauritanian leadership and people for their hospitality.
He also reviewed the importance of the livestock sector for the Mauritanian economy and the necessity of promoting it in the modern economy. This will require more investment in this sector. He called on Arab investors to participate in such investments. He stressed that the AOAD will contribute to the implementation of the outcomes of this forum.
H.E Prof El Dukhiri was received at the headquarters of the Secretariat of the Five Sahel Countries Group by the staff, in Nouakchott. The two sides held a working session. They discussed the steps of the study of the agricultural and pastoral capacities of the countries of the group, which will be executed by the AOAD and funded by Arab Bank for Economic Development in Africa.
They also discussed the initiative which will be launched to create a network of regional organizations involved in neutralizing land degradation in Africa. Representatives of the group expressed their support for this initiative. At the end of the meeting, the Permanent Secretariat of the Group organized a lunch in honor of His Excellency. Her Excellency Mrs. Fatima Val Mint Aswaina, Minister of Veterinary Affairs, hosted a dinner in honor of the participants in the investment forum. His Excellency the Director General attended the banquet, together with government officials , businessmen and investors.