The Director General of the Arab Organization for Agricultural Development (AOAD) H.E Prof. Ibrahim Adam El Dukheri and the accompanying delegation visited the Jordanian Minister of Agriculture and Minister of Environment and Chairman of AOAD General Assembly H.E Eng. Ibrahim Al Shahahda, at his office on Monday the 18th of February 2019.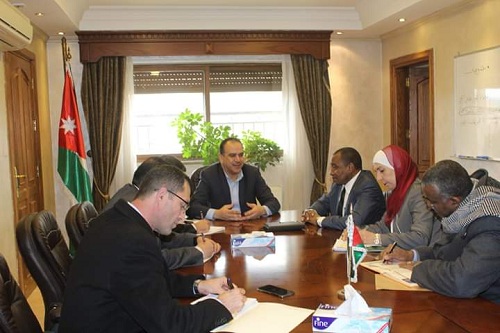 H.E Eng. Al Shahahda stressed the need to enhance Arab agricultural integration and the importance of intensifying cooperation and promoting joint Arab agricultural cooperation in order to improve the level of food security in the Arab world and achieving comprehensive agricultural development.
H.E Eng. Al Shahahda pointed to the importance of his meeting with H.E Prof E l Dukheri to discuss the issues of common Arab interest in various fields of agriculture and food security. H.E Eng. Al Shahahda appreciated the efforts of AOAD in implementing the programs and projects needed by the Member States, which contributed to the agricultural development of it nations, leading to reducing poverty and raising the level of food security.
H.E Eng. Al Shahahda expressed his interest in the development of AOAD's executive work plan in the next phase and in line with the sustainable development goals. H.E Prof EL Dukheri presented a detailed presentation on the mechanism of AOAD's work plan, projects and technical consultations carried out in accordance with the sustainable development goals which are implemented in the Arab countries. He added that AOAD is concerned with strengthening partnerships with international and regional organizations to achieve more productive projects that can serve the Arab agricultural sector.