The Arab Organization for Agricultural Development (AOAD) participated on the 12th of November 2019 in the activities of the field day celebrations in Belail locality in Nyala. The celebration was organized by the Ministry of Production and Economic Resources in South Darfur in cooperation with the Food and Agriculture Organization of the United Nations (FAO) and the World Food Program (WFP), and a number of companies working in the field of agricultural equipment. AOAD delegation observed the harvesting of agricultural crops for women's associations as part of the AOAD's Livelihood Improvement Project in Darfur.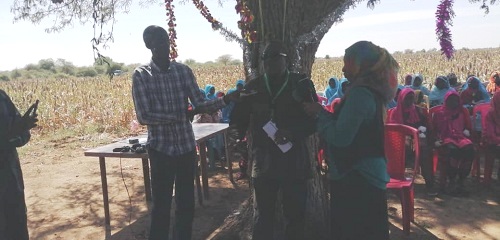 AOAD also participated in the inauguration of the WFP Safe Storage Mobilization Project to assist agricultural associations in preserving their crops being affected by natural conditions and agricultural pests.
It is worth mentioning that the livelihoods project in Darfur states consists of several components, such as, water harvesting, which AOAD will be implementing in the coming period, and the project of agricultural associations to empower rural women economically, along with crop production and food processing to achieve an added value that increases the income of women farmers in South Darfur.