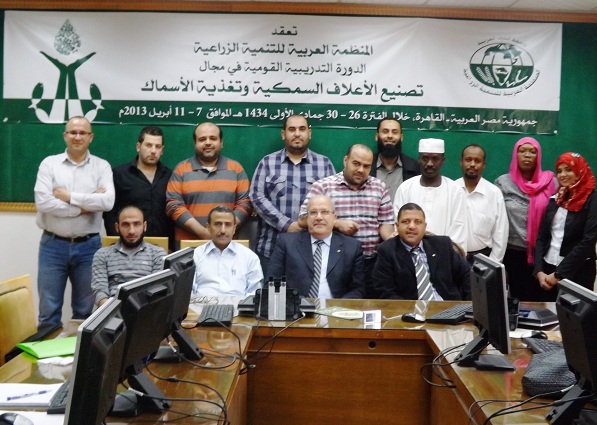 The Arab Organization organized, within the framework of its Arab Program for Agricultural and Fisheries Training (APAFT), a national training course on the manufacturing of Fish Feed and Fish Nutrition at the premises of its regional office for the central region in Cairo, Egypt during the period 7-11/4/2013.
The program of the training course included lectures delivered by reputable professors and experts on the topics related to nutrition and nutritional behavior of farm fish, different techniques of fish feed preparation, protein requirements, energy, vitamins, minerals and their sources. It also included lectures on the nutrition and requirements of warm water fish during the different growth stages, feed constituents and the optimum specifications of feed ingredients, as well as lectures on the use of natural fish feed as a standard feed, production process of floating feed by use of normal process, methods of estimating digestibility coefficients of the different fish feed materials, feeding rates and number of daily doses, feed, nutrition and the modifications of the digestive system. It further included field visits to some fish feed mills.
The course was attended by a number of fisheries personnel from the concerned Egyptian authorities.