Within the framework of the implementation of the first phase of the executive plan of the Arab Emergency Food Ssecurity Programme, H.E Dr. Tariq Al-Zadjali- The Director – General of The Arab Organization for Agricultural Development (AOAD) , accompanied by a high –level team of experts, visited Ad'damar , the Capital of The River Nile state on Thursday 12/1/2011, where he was received by H.E. Lt General Al-Hadi Abdullah Mohammed Al-Aawad , State Wali ( Governor).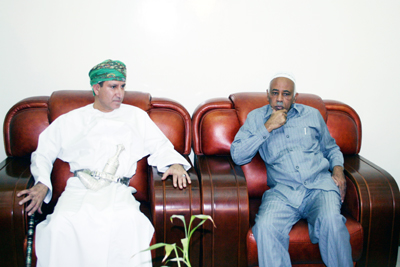 Present at the meeting were professor Al-Sadiq Suleiman – State Minister of Agriculture and Mr. Abdulsalam Mohammed Khair – State Minister of Investment.
The two parties discussed agricultural investment opportunities in the state and means and methods of coordination to promote them.
The visit resulted in naming focal points at the two parties to facilitate follow-up and coordination of efforts.