H.E Dr. Tariq Al-Zadjali, the Director General of AOAD signed agreements to provide five 80 HP agricultural tractors equipped with scrapers to each of North, South and West Darfur States. The agreements were countersigned by the honorable Ministers of Agriculture in the three beneficiary states. The signing ceremony was attended by H.E Mohammed Maouelainain, the Ambassador of the Kingdom of Morocco to Sudan and Dean of The Arab diplomatic corps in Sudan, H.E Ambassador Bilal Qasmallah Alsiddiq, Head of The Immunity Department, Ministry of Foreign Affairs, Sudan and a representative of the Humanitarian Aid Commission, Sudan.
Dr. Al-Zadjali stated that the provision of such equipments was among the components of the League of Arab State(LAS) projects of the Arab Program for sustainable and integrated agricultural and rural development in the States of Darfur, Sudan, that is being implemented by AOAD within the joint mechanism for the follow-up of the implementation of the Arab pledges to the States of Darfur. The machinery was provided for the rangeland project which comprises the opening of fire lines, collection and re-sowing of pasture seeds to help develop and promote rangelands with the aim of supporting the efforts of the government of Sudan to achieve resettlement in areas of voluntary return and provide job opportunities and capacity building to secure food in Darfur.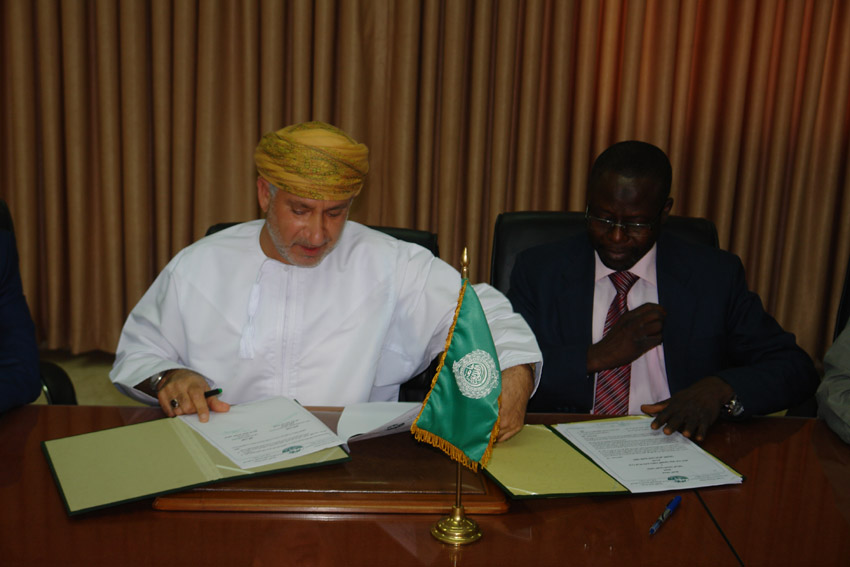 AOAD further signed two agreements on rehabilitation and development of rangeland in East and Central Darfur States with the Ministers of Agriculture in the two states. The agreements were signed under the Arab Program for Rural Prosperity, included in AOAD annual work plan. The two agreements stipulated the assignment of two agricultural tractors with implements to each state.
During the signing ceremony the honorable ministers of agriculture in the beneficiary states expressed appreciation of the role of AOAD and the attention it gives to agricultural development in the states of Darfur.